What is the MIRPS? 
Belize, Costa Rica, Guatemala, Honduras, Mexico and Panama adopted the San Pedro Sula Declaration in 2017 and agreed to jointly implement the Comprehensive Regional Protection and Solutions Framework (MIRPS). In 2019, El Salvador joined this initiative. The MIRPS is a concrete application of the Global Compact on Refugees, which encourages regional cooperation among countries of origin, transit and destination for a greater responsibility sharing in matters of prevention, protection and durable solutions. It also entails a participatory approach by directly involving people with protection needs and populations impacted by violence and insecurity. This mechanism also integrates cooperating member states in the Support Platform and works along regional and international organizations committed to the humanitarian and development agenda.
The Working Groups are regional forums to strengthen protection responses and solutions through bilateral cooperation and peer-to-peer learning.
Discussions occur between MIRPS country ministries and advisory groups that include representatives from UN agencies, the private sector, and members of the Support Platform.
Objectives of the Pro-tempore Presidency
Each year a member country assumes the Pro-tempore Presidency to lead the regional objectives. It is assigned on a rotating basis and alphabetically among the member countries.
Articulate and facilitate the commitments of the Member States and MIRPS national action plans from a regional perspective in response to the differentiated needs of refugees, applicants for refugee status, internally displaced persons, returnees and deportees with protection needs
Facilitate the exchange of information and good practices among MIRPS countries
Make the displacement situation in the region visible to the international community
Make visible the contribution of refugees and asylum seekers in host communities
Lead joint efforts for the mobilization of international cooperation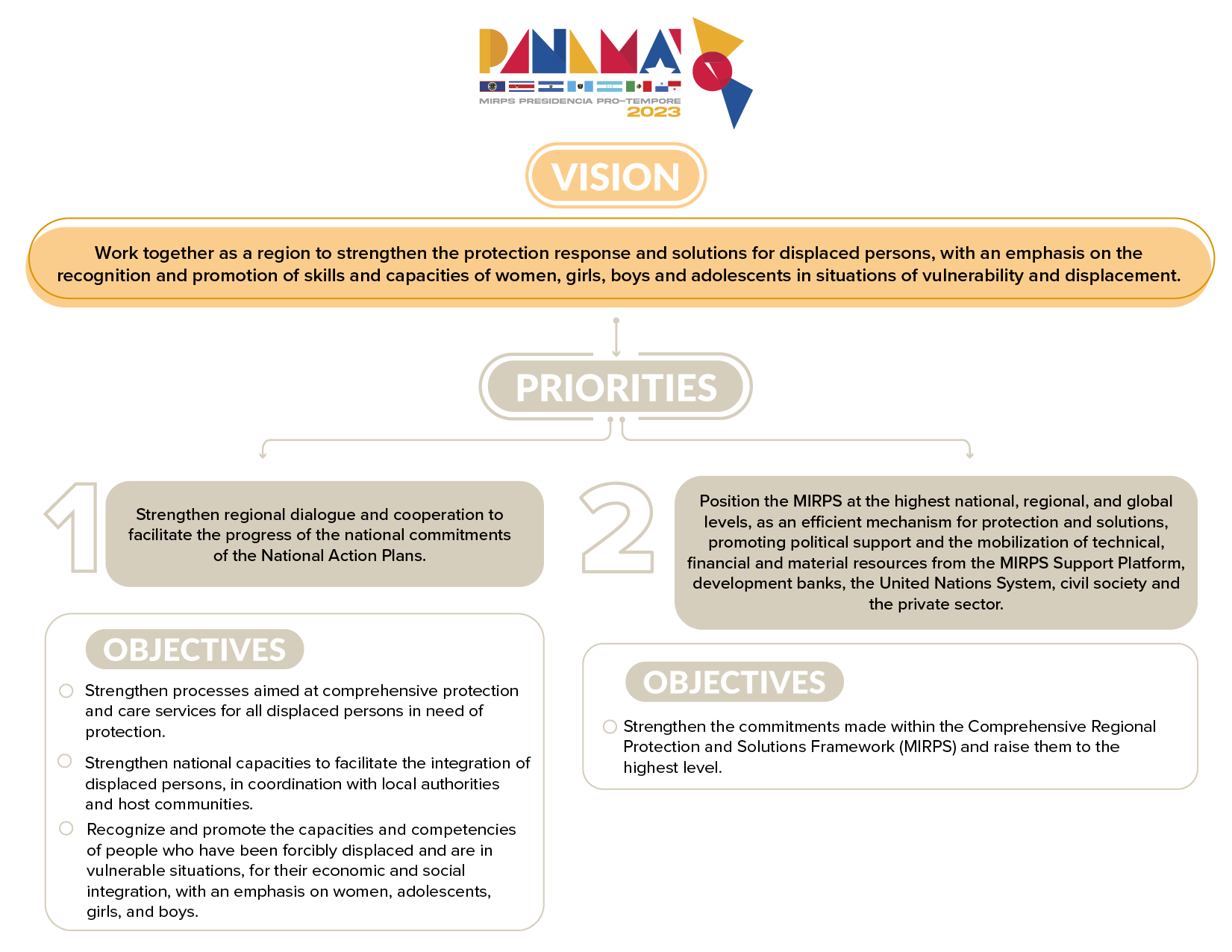 The Technical Secretariat
Composed by UNHCR and the Organization of American States through its Secretariat for Access to Rights and Equity, the Technical Secretariat provides support to the member countries in the implementation of their commitments. 
At the regional level, the Secretariat supports the execution of the annual work plans of the Pro-Tempore Presidency and facilitates dialogue and collaboration with the Support Platform and the Friends of the MIRPS.