The MIRPS Support Platform was launched in December 2019 on the occasion of the first Global Refugee Forum. It supports the efforts of the MIRPS countries in offering protection and solutions to forced displacement in Central America and Mexico, and serves as a mechanism for greater responsibility sharing, as called for in the Global Compact on Refugees. It seeks to leverage support from the broadest possible range of States, international financial institutions, the private sector, regional bodies, and other stakeholders.
Support Platform Members include Argentina, Brazil, Canada, Colombia, the European Union (EU), France, Spain, Switzerland, Uruguay, the United States of America, the Inter-American Development Bank (IDB), the World Bank Group, the Central American Bank for Economic Integration (CABEI),  the Economic Commission for Latin America and the Caribbean (ECLAC). The United Nations High Commissioner for Refugees (UNHCR) and the Organization of American States (OAS) jointly form the Secretariat for the Platform.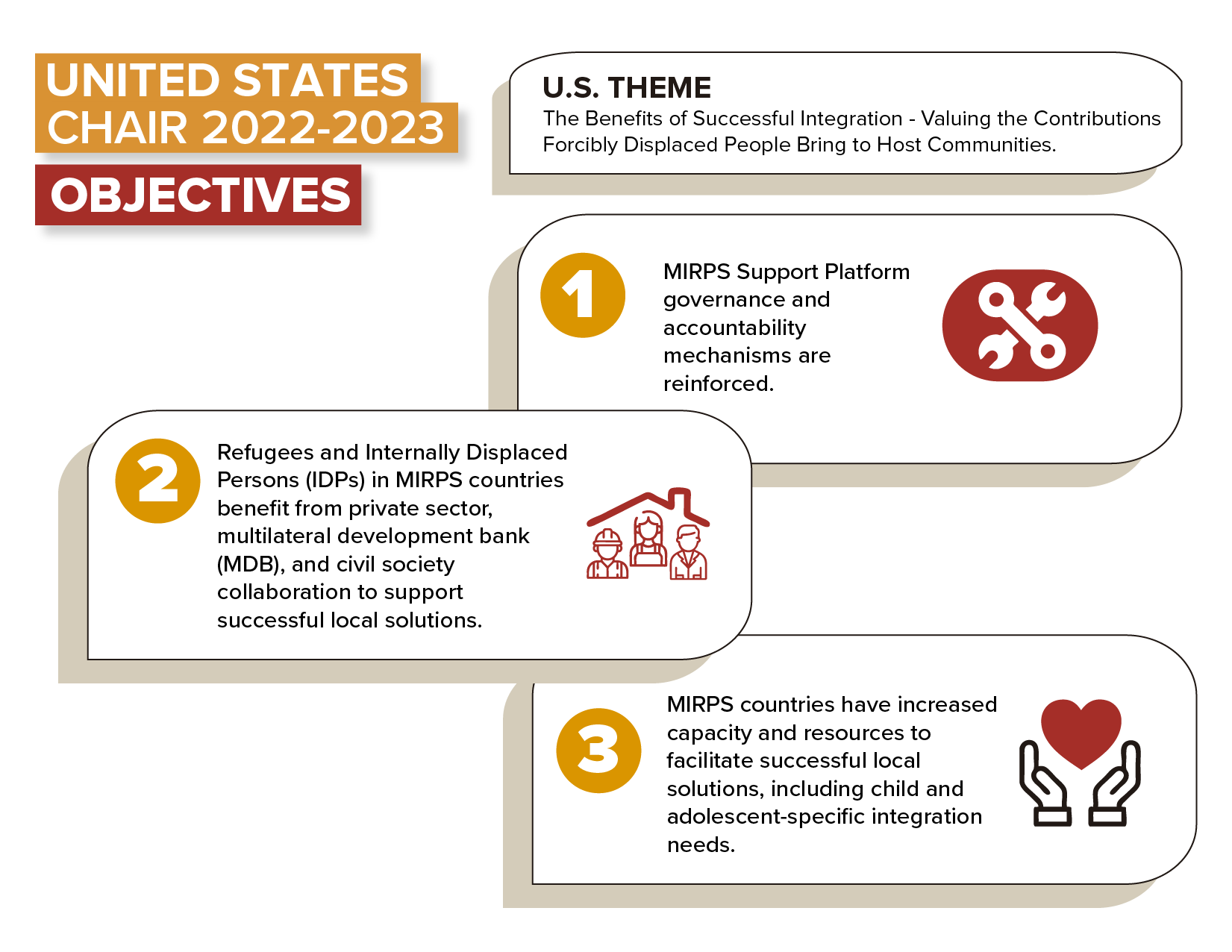 The Support Platform Strategy
In September 2022, the United States assumed leadership as Chair of the MIRPS Support Platform for a period of one year.
The United States will call on Support Platform members and MIRPS countries to join us in highlighting contributions refugees and other forcibly displaced people, including internally displaced persons, asylum seekers, and those experiencing statelessness, bring to their communities; draw attention to needs of displaced people and their host communities; promote social cohesion; and exchange good practices for successful integration and other local solutions, with a particular emphasis on protection for the most vulnerable, including women and children.
For more information on the management of the MIRPS Support Platform, refer to the Note on Governance.
How members support the MIRPS
Provide technical support in one or more focus areas
in alignment with the MIRPS National Action Plans and the MIRPS Working Groups, supporting MIRPS States in achieving their commitments in the areas of Protection, Social Protection, Education, Health, and Jobs and Livelihoods.
Become part of the Cities of Solidarity initiative
where municipalities in Support Platform member countries and
in MIRPS countries can work together to strengthen local responses, including through safety nets for displaced people.
Identify their pledges to be made at the Global Refugee Forum
that represent concrete forms of solidarity and support in alignment with the MIRPS National Action Plans.
Map and conduct outreach with private sector actors
within their country that can be engaged in supporting the MIRPS.
Provide financial support to MIRPS countries
to cover financial gaps in the MIRPS National Action Plans.
Increase opportunities for resettlement and complementary pathways
such as education grants and private sponsorship programs for asylum-seekers and refugees from Central America and Mexico.
Help bring additional actors into the response
through the Platform to broaden the base of support.