Empowering women, fostering entrepreneurship 
As a resident of an urban area besieged by gangs, Letty saw limited possibilities for her future. However, through courses taught in Ciudad Mujer, she received training in developing small business ideas and increasing the productive potential of their existing microenterprises.  
Letty* managed to make her artisanal candy venture stand out from the competition. She achieved this by innovating combinations of flavours, such as her famous grated coconut candy with mint. 
"Since I started going to Ciudad Mujer, I feel safer. There I receive psychological assistance and help to strengthen my business," she said. 
 Letty*'s entrepreneurship sells candy made from local ingredients, and she often tries different combinations. Letty* now has a name and a logo for her brand, conscious of its importance to expanding. "Right now, I have to prepare an order for one of my clients that is going to bring the candy to the US," shared Letty* with excitement.  
Ciudad Mujer has a strategy that seeks to strengthen the economic autonomy of internally displaced women and survivors of gender-based violence. Participants are supported to broaden their client base, expand their market reach, and provide a roadmap for how to transition into the formal economy. The process builds on existing support women have received from El Salvador's National Commission for Micro and Small Enterprises (CONAMYPE) and includes training in methodologies for creating, expanding, and sustaining small-scale enterprises devised by the International Labour Organization.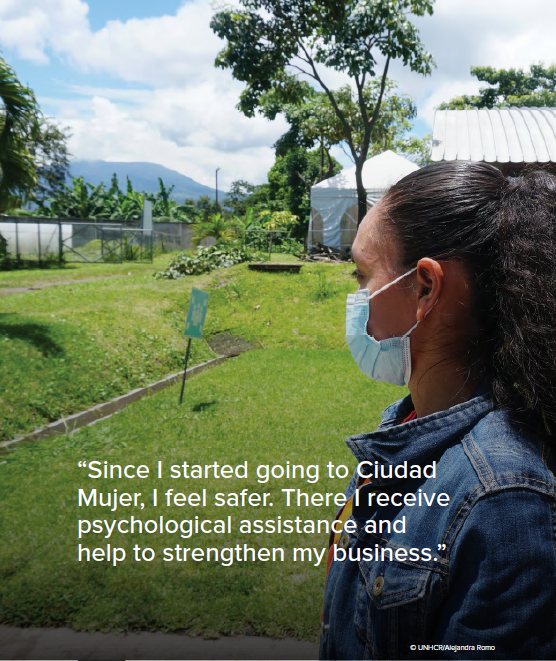 Ciudad Mujer, administered by the Salvadoran Institute for the Development of Women (ISDEMU), contributes to improving the living conditions of Salvadoran women in areas such as participation in the workplace, sexual and reproductive health, prevention and care of violence, and prevention of teenage pregnancies. It also aims to improve socioeconomic opportunities for underage women at risk of forced displacement and returned women with protection needs. 
*Name changed for protection reasons